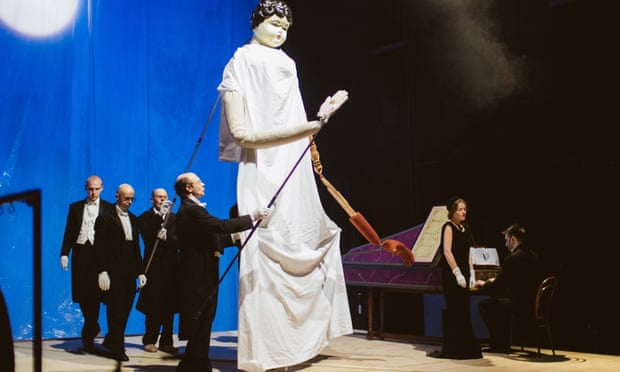 Sense of anarchy: A Midsummer Night's Dream (As You Like It). Photograph: Tanya Voltchanskaya
There's immersive theatre, and then there's theatre where someone has to offer towels to the majority of the front row before the cast has even officially arrived on stage. Dmitry Krymov's take on A Midsummer Night's Dream has my neighbours and me wringing out our programs – and our clothing – but still sporting wide grins. This wonderful retelling of a familiar story is infused with joy and a teetering sense of anarchy.
Krymov ditches the majority of Shakespeare's play in favour of the Rude Mechanicals' tale of Pyramus and Thisbe. Here the ensemble are a heady mix of singers and stage hands, acrobats and performing dogs. And the romantic couple? A pair of 5 metre tall puppets seemingly built from the scraps left over from other projects: Pyramus with large metal jointed hands and the face of painted icon, Thisbe with the slow-blinking head of a china doll.
But this performance is not only intended for those of us sitting quietly in the stalls at the allocated start time, our polite pre-show silence broken by the noisy, chaotic emergence of a tree trunk and branches, and a leaky fountain that for some reason need hauling across our laps. There is also the arrival of an audience on stage, who fidget with their phones, debate loudly whether they should have taken the kids to the zoo or not, and stop the action to interact with the characters or tell their well-worn anecdotes. (That the man behind me also gave his wife a running commentary on the show only added to the joyous absurdity of the whole thing. It took me a while to realise he wasn't part of the cast).
All of this, I should say, is done in Russian – there are screens with surtitles at the sides of the stage. The dialogue is funny, but it is the physicality that is wonderful here – from the manipulation of the puppets to the increasingly ludicrous exploits of two acrobats to deliver Pyramus a decent bunch of flowers. Krymov brings together his raggedy, unwieldy puppets, a man standing on his head on another man's head, and beautiful, evocative music to create something that is both knockabout and moving; rude and emotional; funny but substantial.
It is beautifully pitched and balanced. A scandalously funny prelude to sex provokes an uproar among the onstage "audience" and guffaws of pure joy. But the production also reveals a truth about the pure power of love in a quietly devastating manner.
The full title of Krymov's work is A Midsummer Night's Dream (As You Like It). And given that it includes a unexpected troupe of ballet dancers, questions about the safety of eating lion meat, and a heroine who tips her head open like a bin to eat, how could you not?
http://www.theguardian.com by Vicky Frost, the Guardian, 18.02.2014